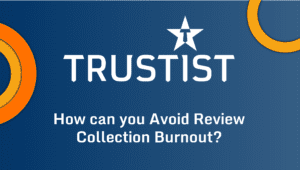 So, you know that reviews are great for your business, and you've been eagerly beavering away collecting them, but maybe you're beginning to run out of steam?
Perhaps a couple of customers have said, "Yes, I'll leave you a review" but then haven't done so. Some customers might of even just said no…
Whatever the reason, it's easy for businesses to get burned out when requesting reviews. Some find it quite disheartening asking lots of customers, yet only getting a few positive responses. Some might even find it plain embarrassing asking in the first place! Whatever the reason, it is, sadly, quite common for people to give up on review collection entirely.
Instead of giving up and missing out on all the stunning opportunities a robust review strategy will give to your business (did we mention that some of our clients report generating 50% more sales through collecting reviews?), why not consider ways to keep yours and your customers interest?
For instance, in order to keep your review collection efforts fresh, exciting and interesting, have you considered using different methods to collect your reviews?
Here are some ways to shake things up and keep things current:
Ask for reviews in a post-purchase email, or on receipts/invoices – ensuring you ask in a timely manner can cause a huge boost to the number of reviews you receive, as your service is still fresh in customers' minds!
Include review requests in your email newsletters to customers – every time you're reminding customers about your business, you're also reminding them about the service they received which can be a great opportunity to collect new reviews!
Ask for reviews via text message or WhatsApp if you're already using these methods to communicate with customers – using a method they're already associating with your business, especially one that is so quick and easy, helps to minimise the effort the customer will have to put in to leaving a review.
Include your review request on your product packaging and/or business stationery – business cards are especially useful for this!
Collect more reviews via QR Codes – we've written other blogs about QR Codes and their use in review collection including this one: How will QR Codes be Used Post-COVID-19?
Follow up on social media comments – if you spot someone recommending your business to their friends on social media, why not ask them to leave an official review too?
Include review requests on product warranties and registrations – any documents (physical or online) your customers have about your business can act as perfect opportunities to collect feedback!
Ask your customer when you next see them or speak to them on the phone – customers will often be even more willing to give their feedback verbally, so if they're saying something lovely about your business on the phone there is no harm in asking them to write it down!
Now, we appreciate that not every idea listed above will be right for you, your business, or your customers, but there will be at least a couple of ideas in there that will work for you.
Finally, don't forget to alternate between different ways of asking for reviews so that it doesn't get boring for your customers too.
Asking for reviews may feel difficult sometimes, but it is a phenomenally strong way to engage with your customers and develop that all-important relationship. For that reason alone, brush off the fatigue and talk to your customers dropping in your review request as part of the conversation. Make it easy for them to give you a review and it really will be the most powerful thing you do for your business today!