Your amazing reviews will automatically be shared to your favourite platforms as social posts.
Sharing Reviews on Social Media
When you collect particularly good reviews, you want to make sure they're seen by as many prospective customers as possible. A great way to do this is through sharing them onto social media as posts, which is something we can certainly help with.
Often, customers find you on social media before they see your website, so we want to make sure they're seeing your best feedback immediately!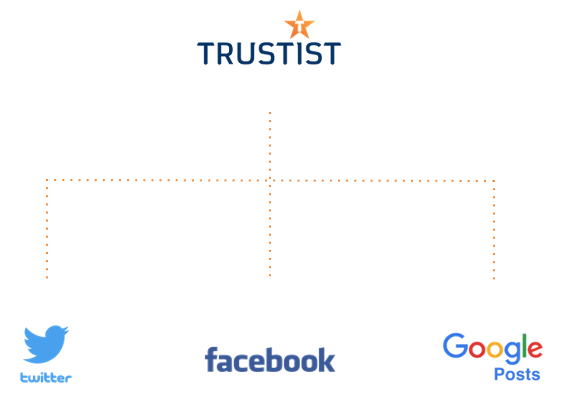 Automatic Social Media Posts
Through our Auto Post feature, your best reviews will be shared automatically onto your chosen social media platforms meaning that they can be seen by even more customers and this can help to create additional sales opportunities.
Our integrations with Google, Facebook and Twitter ensure that customers are far more likely to see your 4- and 5-star reviews from every review source as soon as they come into your account.
These social media posts can also be completed manually through your Trustist account for any additional customer reviews you would like to share!
"Best return on investment of any marketing platform that we use, highly recommended, easy to get hold of the team."
"Since joining TRUSTist, I have seen at least a 10-20% pickup in business which I think is a phenomenal achievement."
"We have experienced substantial growth in part because of the quantity and quality of our Trustist reviews. Thank you Trustist!"
Reputations are built on happy customers
Learn what Trustist can do for your business