In this blog article we look at the various forms of advertising and how quickly they impact and how long they impact for.  In the second part of the article we look at how each of the boxes numbered 1, 2, 3 and 4 behave over time.  In terms of immediacy and value over time this is in relation to sales, if this were to be looked at in terms of branding there would be a different set of results shown.
Forms of Advertising – Value Over Time vs Immediacy
Every business will be different; it would be interesting for you to plot the various markers for your business.
Here's the graph: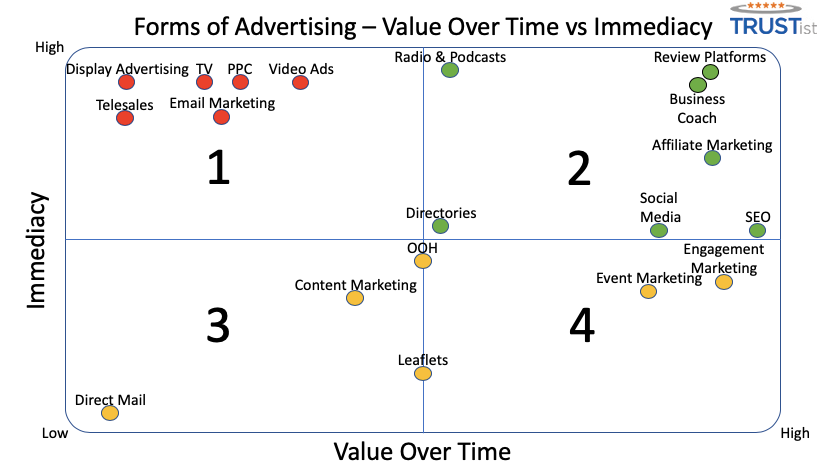 Key
Display Advertising:  Banner-type advertising on other people's websites.
TV: A paid for TV commercial.
PPC: Pay Per Click on Google (AdWords), Bing or other search engines.
Video Ads: Video advertisements on video channels such as YouTube.
Telesales: An external, paid for, telesales agency.
Email Marketing: Bulk campaigns sent out via email.
Radio & Podcasts: Paid for audio which is then published online.
Social Media: Facebook, Instagram, Snapchat, Pinterest, Twitter, LinkedIn etc
SEO: A paid for Search Engine Optimisation campaign.
Business Coach: A paid for coach; the largest example of a business coaching organisation would be ActionCOACH.
Review Platforms: we operate a review platform, for example.
OOH: Out of Home advertising eg sides of buses, bus stop advertising.
Content Marketing: Editorial that is shared online typically in the form of blog articles.
Leaflets: Paid for leaflet distribution.
Directories: Free or paid-for directories eg Checkatrade, Franchise Local, Yell.
Direct Mail: Physical post.
Event Marketing: Either hosting or attending networking opportunities.
Affiliate Marketing: Having advertisements on other people's websites and paying a commission for sales.  The largest agency in this space would be Optimus Performance Marketing.
Engagement Marketing: Multi-point marketing on an ongoing basis.
It is also interesting to note that the various forms of marketing have similar characteristics in terms of value and time which can be summed up like this: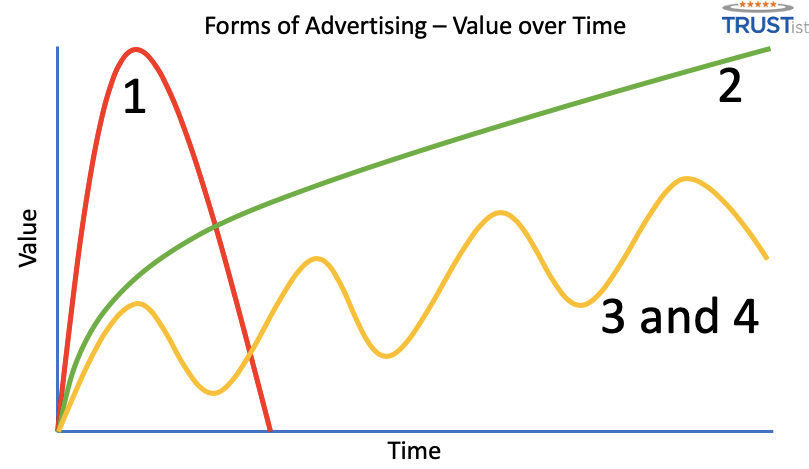 In normal times you might want a mix of all forms of marketing.  However, in times like now, when there is a COVID-19 pandemic and many businesses are forced to close or vastly reduce trading then you wouldn't want to cease anything in group 2, you would consider carefully everything in groups 3 and 4 and potentially cut back on group 1 and also possibly divert spend from there to to group 2 items.

Please see our other article on why you should maintain or even increase your marketing spend in times of crisis – https://trustist.org/Marketing-In-A-Crisis.  It sounds like a counter-intuitive thing to do but have a read of the case studies.