Why use an Exhibition Review System?
There are several reasons why you might use a review system to promote your exhibition.  An Exhibition Review System could help grow the quality of attendees and the number of them which in turn will help you sell space and sponsorship opportunities.  Of course, people looking to attend an event or exhibition for the first time are going to be persuaded by the opinion of others and the Trustist Exhibition Review System allows them to read what others have experienced.  The re-emergence of QR codes makes leaving reviews really simple.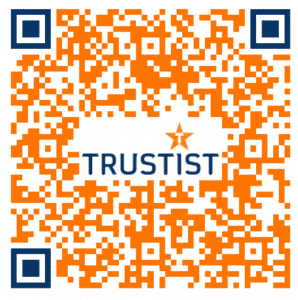 How the Trustist Exhibition Review System Works – Getting Reviews
You tell us the name of the exhibition and where it is being held then we generate a unique QR code for that event.  The QR code can be used on all printed materials including delegate passes, programmes and guides.  When presentations are finished in the exhibition the last slide can be the QR code. 
We can also provide pop-up banners with the QR code on which can be placed at strategic points within the exhibition and at exit points to ensure the maximum number of delegates leave a review.
By scanning the QR code with their camera (there's no need for a QR reader) the user is prompted to open a window in their default browser.  They then see the review screen.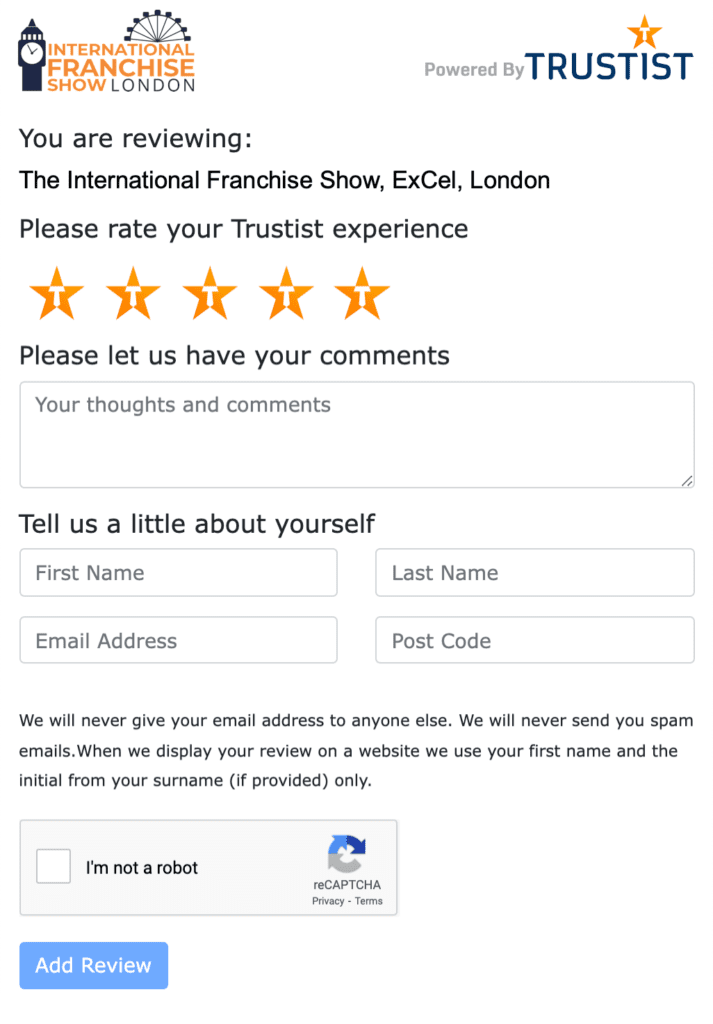 They leave a review and that is captured as a review with your branding – it's your own review platform!
Using Reviews to Your Advantage Once the Trustist Exhibition Review System has Been Used to get Them
Once you have reviews for this year's event then now is the time to use them for next year's event.  Using Trustist will get you stars in your Google search results for your organic Google search results and if you can get Google reviews for your exhibition then you'll get stars in Google Maps too.  Search results with stars get a massive uplift in the number of clicks that you'll receive and if your website is set up to take booking there will be a double whammy!  You'll get an uplift in visitors and they'll also convert better because they come from listings which have stars in them which potential exhibition goers will trust more than listings without them.
The other advantage of using the Trustist Exhibition Review System is that you'll get exposure on your social media platforms.  You'll be given the option to use the Trustist Auto Posting feature when you have your on boarding call and this will create Tweets on Twitter, Posts on Facebook and Google Posts – all free advertising opportunities.
Aggregation of Reviews
If you know of other places where reviews of your exhibition have been left, then please let us know as we can bring them in to our platform and use them to your advantage.