We know, we know! Let's deal with the elephant in the room first… we are a 5 out of 5 star reviewed business and for that we're genuinely very, very grateful. We should also add that that review score is made up of over 170 customer reviews (the significance of that will become clear as you read on).

However, research has shown that a review score of less than 5 out of 5 is often perceived by consumers to be more realistic with some consumers going as far as to say that a 5 out of 5-star rating "seems a little too good to be true". Scepticism aside another issue for 5-star businesses appears to be that, in the main, they have far fewer reviews (you can see why we mentioned our 175 customer reviews now, can't you?).


So, if businesses with 5-star review ratings, but only a few reviews, run the risk of being disregarded what is the optimum review score?


The Sweet Spot

Let's look at a study on Search Engine Land. This study gives us three very important insights. They found that:


Conversion rates peaked when businesses attained 4.9 stars



When businesses improved from 3.5 stars in a given year to 3.7 stars the following year, conversion growth increased by almost 120% – the highest percentage growth jump from any star rating



A review reply rate of 32% achieved an 80% higher conversation rate than direct competitors who replied to just 10% of their reviews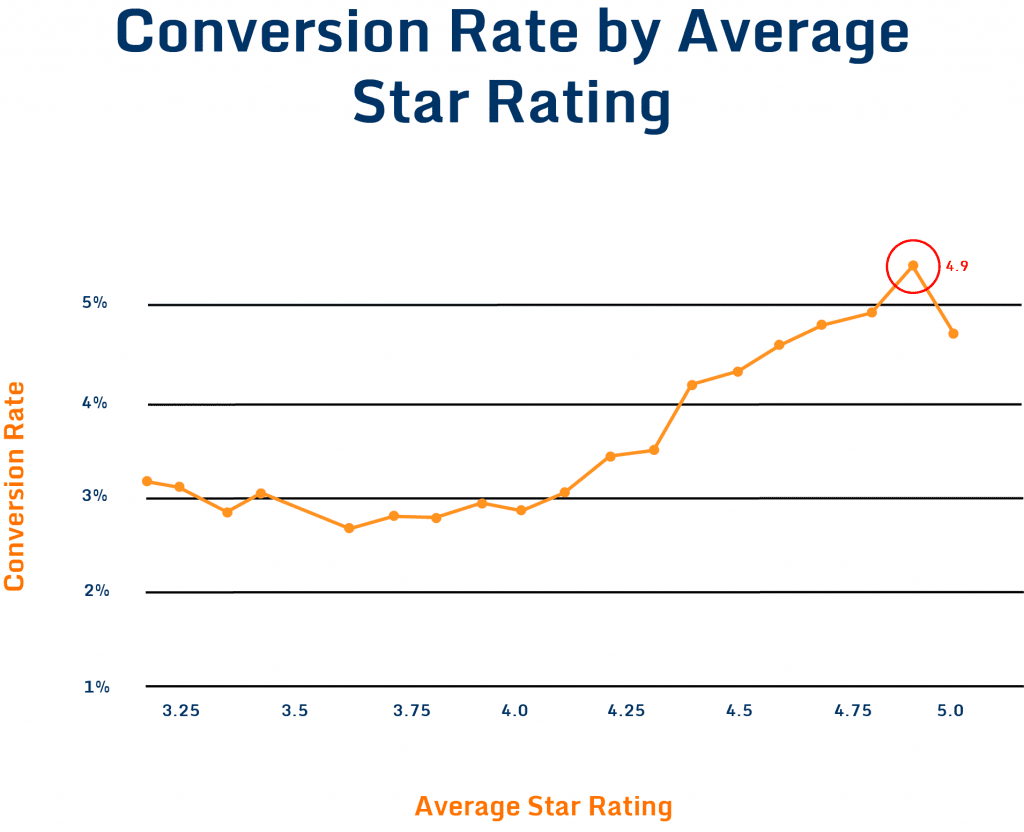 Armed with this information we hope you can see why it's hugely beneficial to your business to put a robust review strategy in place; but what happens when you receive a bad review? Is it 'game over' at that point?
What to do When You Get a Bad Review
Negative reviews are almost inevitable and, many would argue, are a natural part of any business' online presence. They can easily impact your overall review score but that really doesn't mean the end of the world for your online reputation. Here are our top three tips:
Don't panic!


Respond to the reviewer and see if/how you can make their experience better. This won't remove the bad review but it may encourage them to leave a follow up review reporting the positive response they've had to their original comment. Feedback like this is, believe us, invaluable!


Meanwhile, talk to your other customers/clients and ask them to leave a review for you. As new, positive reviews come in it will push the 'bad' review down the page effectively drowning it out. You don't want a 'bad' review sitting at the top of your reviews and this simple, effective strategy will soon see that it doesn't!


How to Achieve a 4.9 Star Review Rating
As we mentioned above, putting your review strategy at the heart of your business will have huge positive benefits to your business, your online reputation and your revenue. Here's how to do it:


Embrace negative feedback. We've already spoken about that above but did you know that 45% of consumers say that they are more likely to visit a business if it has responded positively to negative reviews? Did you also know that 75% of business don't respond to their online reviews at all but those that do earn considerably more revenue? It's very much worth your time responding to your reviews|


Don't fake it. There has been a rapid rise in fake online reviews with some businesses faking positive reviews about themselves or posting negative reviews on their competition. Avoid doing either. Your customers/clients are looking more closely than ever at reviews and have a canny ability to spot an inauthentic one a mile off. Play nicely, play positively and you will garner the benefit!


Analyse your Review Content. People have different definitions as to what counts as 5-star service or, indeed, 1-star service for that matter. Look beyond the number and read the text your customer/client has left you. That will give you far greater and more rounded insight into what your business is doing well and where it can further improve


Encourage customer/client feedback and generate new reviews. By putting your review strategy at the heart of your business you'll automatically start asking for reviews and will, therefore, constantly acquire more reviews. Your ability to generate new reviews will have a major positive impact on your business and its turnover. More recent reviews tell others that customers/clients have recently done business with you and their experience clearly demonstrates to others what the current situation is at your business
We hope you found this article and our top tips useful. If you have any questions on it, please do get in touch. If you'd like to book a FREE demonstration you can do so here.