With more and more businesses undoubtedly using online reviews to transform the way they build awareness, raise their profile, increase footfall and, ultimately, drive sales, we wanted to look at the trends that are emerging within the wonderful world of online reviews.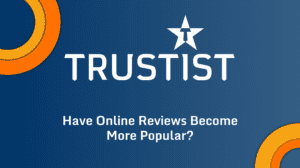 Recently, Dealerscope published an article which said that the volume of online reviews increased by 12% in 2021 vs 2020. They went on to add that 90% of consumers report reading at least one review before buying something, with 72% saying they read several reviews first. Compare these figures against a 2019 study which revealed that only 61% of consumers looked at online reviews before making a purchasing decision and you can see that there is a clear trend emerging when it comes to the importance of online reviews.
Other surveys and research show consumers are reading reviews regularly from a variety of different sources, the most popular being Google My Business, Amazon, and Facebook. An interesting aside here – Dealerscope's article also stated that directions to a business from its Google My Business page are up 15% this year too. This is definitely worth noting and if you need more help on Google My Business, (GMB) we've written several blogs on the subject including how to fully maximise it so do scroll down and have a read.
Another interesting trend we noticed is that review interaction is up by 50% from pre-pandemic levels. This interesting stat was reported by ReviewTrackers who interpreted it as "one of the many signs demonstrating consumers' heightened sensitivity about where to go or what to purchase in the wake of the pandemic". This same report also said that its research was showing that consumers are more heavily relying on local business listings to research and validate their purchasing decisions making local listing management a top priority for businesses and brands.
Some very interesting trends there which do, indeed, seem to indicate that online reviews are becoming increasingly popular. Before we leave you though, here's one last interesting trend – reviews are becoming a lot shorter. ReviewTrackers report also revealed that in 2010 the average length of a review was 600 characters. Since then, online review stats are showing that reviews have become 65% shorter with an average review now coming in at just over 200 characters (which is about the length of an expanded Tweet).
So, if you're still worried about asking your customers for a review consider how long it's going to take them to leave 200 characters worth of feedback vs the fabulous potential online reviews offer you and your business! It's only going to get more popular so start 2022 as you mean to continue and ensure you place online reviews at the heart of your business building activity!