Criminal Convictions and Lawsuits


Last year in Italy a man was jailed for nine months for selling fake TripAdvisor reviews to hospitality businesses. TripAdvisor even shared evidence from their own investigations at the trial. That TripAdvisor helped obtain this conviction is an important reminder that industry leaders will catch you out.
And it's not just TripAdvisor or the Italian authorities weighing in.  In 2013 New York's attorney general set up 'Operation Clean Turf' and fined nineteen companies for offering to write fake reviews for his fake yogurt shop (https://www.bloomberg.com/news/articles/2013-09-25/operation-clean-turf-and-the-war-on-fake-yelp-reviews).
In 2015 Amazon sued over one thousand fake reviewers who were advertising their services on Fiverr: a US platform for the buying and selling of minor tasks.  But how did Amazon identify who to sue? 
By hiring some of the reviewers! 
Similarly, in the UK the Sunday Times managed to hire several fake reviewers. These reviewers were writing fake reviews for a poorly written eBook that wanted to get to the top of Amazon UK's Gardening and Horticulture Kindle chart (https://www.theguardian.com/technology/2015/oct/18/amazon-sues-1000-fake-reviewers).


Reviewsta and Fake Review Packages


Some customer reviews companies such as Reviewsta have recently come under fire for offering to write "bespoke reviews" for companies in the hospitality industry. Reviewsta offered to write these reviews under the unethical pretences that they could get businesses a "progressive ranking improvement" in Google. David Bentley, owner of Old Bowling Green in Winster, was contacted by Reviewsta and was quoted in MA on the subject of fake reviews, saying: "This type of service undermines the whole system of reviews and invalidates genuine ones" (Robinson, 2019). Bentley also added that this kind of service "is clearly designed to misrepresent and prevent the truth" (Robinson, 2019). These examples of unethical review practices express the need for review platforms to hold themselves to a higher moral standard.
An image used by Reviewsta on a promotional banner tried to tempt hospitality businesses into buying reviews from them. The banner claimed that they had "NEVER had even one Review removed."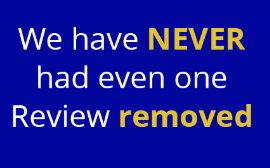 Ironically, this led to their downfall and the complete removal of their Shopfiy website. When you search for https://reviewsta.co.uk/ you receive a message stating that "this shop is currently unavailable."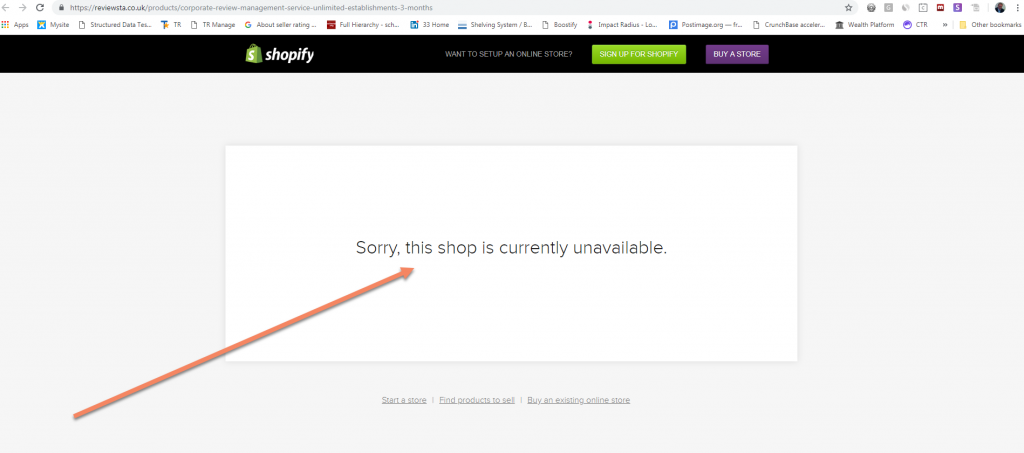 Industry Leaders Under Scrutiny
We've seen a sting operation by New York's attorney general, one by Amazon, and one by the Sunday Times. The excitement doesn't end there! In 2018, the BBC tell us that they were able to purchase a false review on Trustpilot who claim to be "the most trusted online review community on the market" (https://www.bbc.co.uk/news/technology-43907695).
Furthermore, if you look at Trustpilot's listing on Reviews.io's website you receive a warning that "some of the reviews…have been written by Trustpilot employees."  One might argue that Reviews.io are attempting to tarnish the reputation of a competitor. However, that this is not the first time Trustpilot have received bad press for their trustworthiness suggests that something may well be amiss.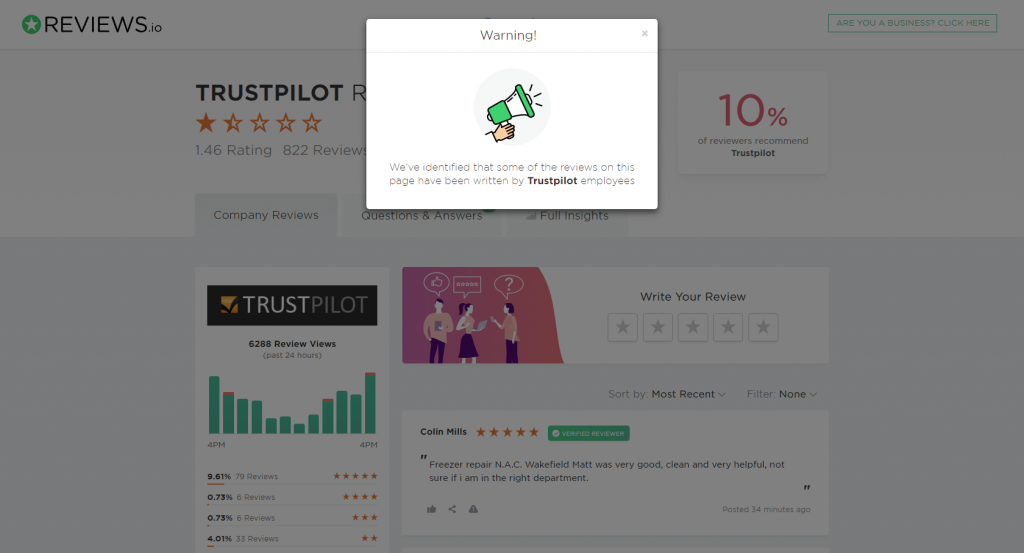 Customer reviews companies are mouthpieces for honest and genuine public feedback. Therefore, fake reviews undermine and overshadow real customers' delights or concerns that are important signifiers of quality.
Aside from the criminal convictions and lawsuits, fake reviews, as Nicholas Robinson puts it in a 2019 article in The Morning Advertiser (MA), a threat to the integrity of the customer reviews industry (Robinson, 2019).
---
---