During economically challenging times there's a clear temptation for businesses to cut their budgets, with marketing spend very often being the first budget to be squeezed.  However, reducing your marketing spend during challenging times can significantly impact your business.  As The Balance Small Business website says, "Many small businesses make the mistake of cutting their marketing budget to the bone in lean times, or even eliminating it entirely, but this is exactly when your small business needs marketing the most.
"Consumers are restless.  They're always looking to make changes in their buying decisions.  Help them find your products and services and to choose them rather than others by getting your name out there.  Don't quit marketing.  Step up your marketing efforts".*
The Third UK National Lockdown
As we approach the end of month one of our third national lockdown (and the first for 2021) we wanted to look at this vitally important topic once again and support you with some clear evidence and a Top Tip to help you on your way.  (You may remember our first blog on this subject ''Why You Shouldn't Cut Your Marketing Budget In Times of Crisis' which we published in March 2020 when the pandemic first started.  You can find that blog here.
Invest in your Business
Whatever the economic environment marketing should always be seen as an investment rather than a cost to your business.  Adopt a medium to long term view in order to ensure that you and your business gain the fullest results possible from any marketing you undertake.  Remember that marketing is not something that should be turned on and off at will.  To work best it needs your commitment behind it.
If your clients/customers can't see you they'll presume that you no longer exist and will continue their search for your products/services elsewhere.  That's money and custom you've lost and your competitor has just gained.
The Importance of Google to your Business
In our view no business can afford to ignore Google.  By getting ahead of your competition on Google you will ensure clients/customers find you and contact you first.  How do you do that?
One incredibly powerful way is to ensure that you have stars in your organic Google search results. Here's where Trustist can help.  Trustist enables you to use your reviews to generate more sales in 4 simple steps:
Stars in Search – you will make more sales because we get you stars in your organic Google search results
Review Collection – your online rating will improve by using our QR codes and review links to collect reviews. We guarantee it!
Review Aggregation – you will be able to see in a snapshot what your online reputation is
Social Media – your amazing reviews will automatically be shared to your favourite social media platforms
… But please, don't just take our word for it.
Marketing Success Using a Review Strategy
Two Trustist clients have kindly agreed to share the results of their refocussed marketing efforts with us.
The first is a cleaning franchise.  We encouraged them to collect new reviews across the second and third quarters of 2020 – a period of inactivity for companies like this as lockdown rules meant that they couldn't effectively operate.  As the image below shows, they achieved a fantastic 36% increase in web-traffic when comparing the month before the first lockdown with the month after the first lockdown.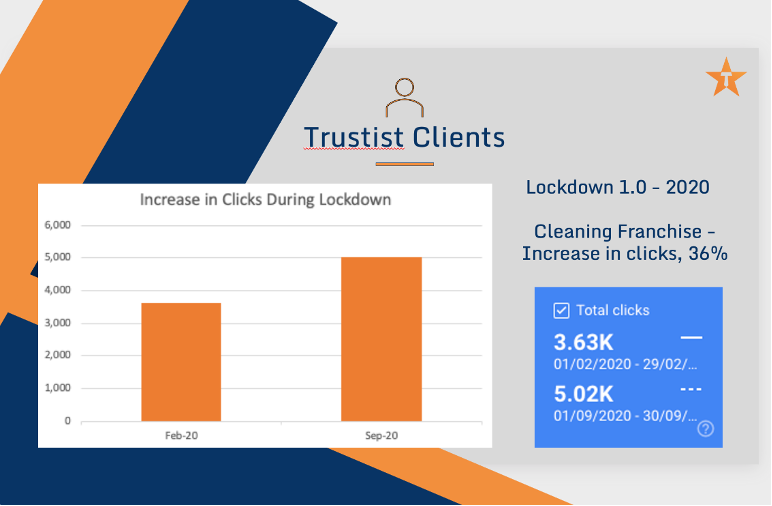 Our second client is a Gloucestershire-based estate agent.  Across the same period, and by carrying out exactly the same activity – namely inviting existing clients to give them a review – they were able to increase their total clicks, but this time by 46%!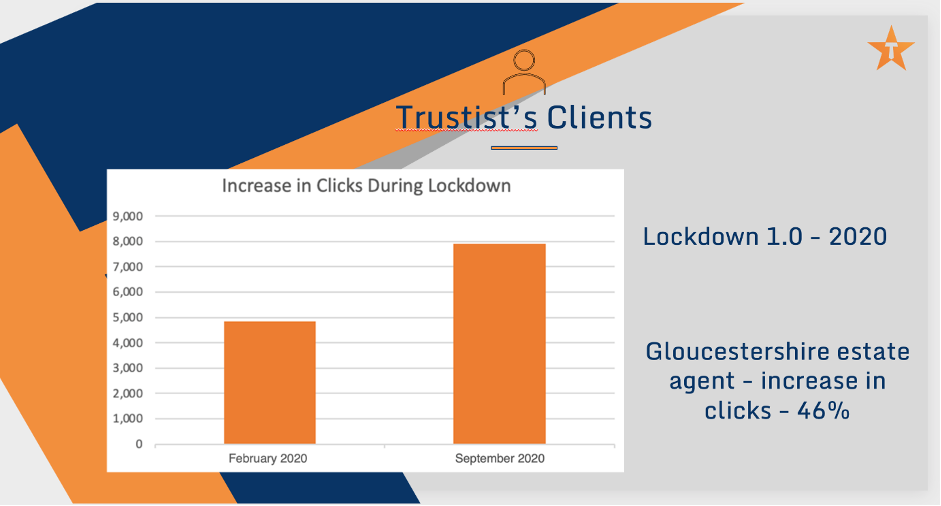 How does such a simple piece of marketing activity work?  It works because you're showing potential new clients/customers that you're still actively engaging with your existing clients/customers during difficult times; and that speaks volumes about the levels of service your business offers.
So here's our top tip which you can start apply immediately to your business:
Reconnect with your existing clients/customers and ask them to give your business a review during this difficult time
As these two Trustist clients clearly demonstrate, it's a piece of marketing activity that really does make all the difference.