We were recently reading a rather fabulous article which had the title "9 in 10 customers more likely to overlook a negative review if the business responds adequately, Yelp says".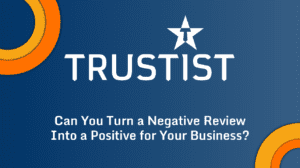 As regular readers of our blog will know, we've shared our thoughts on responding to negative online reviews before as well as written blogs in which we've discussed how businesses can learn from negative reviews.  This most recent article, however, looked at results from a survey on review quality and transparency commissioned by Yelp and conducted by Kelton.  In it the article shared some very interesting information backed up by those all-important stats.
Did you know, for instance, that:
88% (or 9 out of 10) survey responders said that they are more likely to look past a negative review if they see that the business has responded and appropriately addressed the issue
This is a drum we've been beating for a long, long time.  Whether a positive review or a negative review has been left, a prompt response to it means the world not only to your reviewer but those reading your reviews – your potential customers.  This stat clearly demonstrates that responding promptly to any negative reviews received is really important and goes a long way to solving the issue:
33% of responders are likely to update a critical review if the business replies with a personalised message within 24 hours of the review being posted
Another clear benefit of responding promptly is that many reviewers will update their review in light of your response meaning that that negative review suddenly looks a lot better than before. The survey also pointed out that:
97% of responders believe that written reviews, alongside a star rating, are the most helpful type of online reviews for local businesses
We've said it before, and we'll say it again because our own experience backs this up – online reviews will help your business grow!
Further, 54% of responders said they read between 3 and 5 reviews about a business before deciding whether to make a purchase or visit it.  This is a really important stat to know about because if you have had a recent negative review, readers will look at other reviews to see if it's a one-off or a regularly repeating issue.  The survey also revealed that 59% of responders believed that medium length online reviews (of between 16 – 50 words) were the most helpful.
There's some great information in this article and the survey on which it's based. So if you'd like to read more then please click here.