Trustpilot is a Danish company with operations in Lithuania, Australia, Germany, the USA, Denmark and the UK.  Their British subsidiary, in 2019 had annual turnover of £17,979,981 and profit of £135,235 or 0.7% of turnover.
There are many different review platforms available, with some being accessible for all businesses and some being industry specific. One of the biggest review platforms around today is Trustpilot, who help many different businesses to collect reviews from their customers.


The differences between the service offered by Trustist vs Trustpilot are covered in this article:
Aggregated Reviews
Guaranteed Stars in Google Organic Search Results
Automated Social Posts
Open vs Closed Review Collection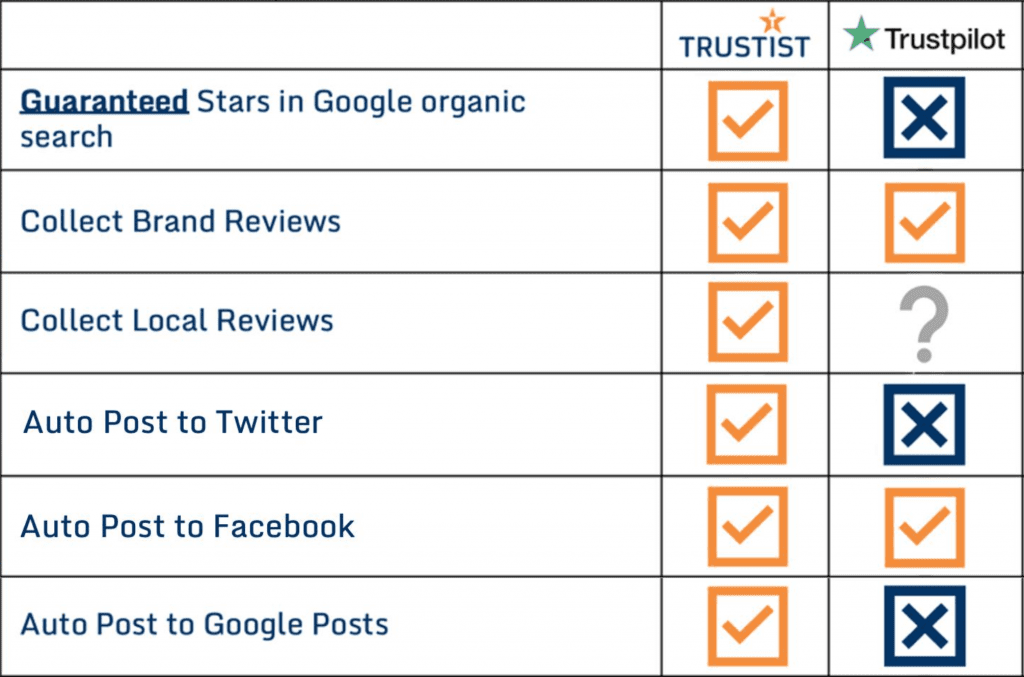 Trustpilot allow users to collect and display Trustpilot branded reviews from their customers at brand level. The reviews are then displayed on the business' page on the Trustpilot website for customers to view.


The first, and biggest, difference between the two platforms is that here at Trustist we aggregate a company's reviews from wherever they exist online and bring them into one account allowing clients to monitor their entire reputation in one place. The reviews can be aggregated at brand or location level, allowing multi-location clients to see how each of their branches are performing individually.


We also encourage clients' customers to collect reviews on any of their chosen review sources through their unique Trustist review collection URL, including own-brand reviews ie we give clients their own branded review platform as this greatly encourages engagement and the number of reviews.  Indeed, we have seen that by having an own branded review platform the number of 5-star reviews increases!
Guaranteed Stars in Google Organic Search Results
Trustpilot clients have access to multiple widgets allowing them to display their Trustpilot reviews on their own website, as well as the ability to display stars against their Google AdWords search results after qualifying for Google Seller Ratings. To qualify for Google Seller Ratings, businesses must collect 100 verified reviews with a minimum rating of 3.5 within a 12-month period.


Trustist clients can display their aggregated reviews on their own website in a variety of different widgets. The widgets show the overall summary of the reviews, including the total review count across their review sources and the average rating score. These widgets not only show this to users of the website, but also to Google through Structured Data.


As a result of this Structured Data, Trustist clients can get stars against their listings in natural search results using their aggregated reviews from all review sources. The stars help clients to stand out from competition whilst also making the listings more attractive and increasing the amount of traffic through to the client's website. Trustist clients only need one review to get started with the stars in their natural search results!


There are also additional widgets available allowing Trustist's clients to display the full list of reviews they have received directly on their site for clients to see.
Trustpilot users can link their review collection account up with a Hootsuite account, allowing them to share their reviews onto social media using Trustpilot generated images.


One of the features available within the Trustist client dashboard is Auto Post. When switched on, Auto Post takes any 4 and 5-star reviews collected and shares them automatically onto the chosen social media platforms (Facebook, Twitter and Google My Business). Sharing the reviews automatically allows clients to step away from any manual sharing, safe in the knowledge that their best reviews are being shared out to an even wider audience!
Open vs Closed Review Collection
An open review platform, like Trustpilot, allows anyone to leave you a review without verification.  On Trustpilot for example, you find the business that you're reviewing and make your comments public immediately. An open review platform leaves you much more open to reviews from people who haven't used your services.  It also means that dissatisfied customers can search out your Trustpilot listing and leave a bad review.  We can see from some of our large clients that the average Trustpilot score is closer to 4.0 and the average Trustist score is closer to 5.0.


A closed review platform allows you to control who can leave you a review and who can't.  This means that you will be safe in the knowledge that every review collected was from someone who genuinely had an experience with your business.  Trustist can be used as a closed platform and gives you full control over who can leave you a review with personalised links that you can use in emails, text messages, or even face to face!  Only people of your choosing can see these review screens!


With Trustist, customers are not required to login, but they do on Google and Trustpilot.  Creating another step in the customer journey often leads to them not bothering to leave you a review, so we make it easy!


One of our clients, a large retailer, uses both Trustpilot and Trustist.  They have collected 3,518 reviews on Trustpilot over 6 years and 4,227 on Trustist over 10 months.


Trustpilot:
74.0% positive
25.0% negative
Trustist:
96.4% Positive
3.0% negative
Even though we have helped this client collect more reviews than Trustpilot, this client is still likely to get positive feedback 96.4% of the time with Trustist, whereas with Trustpilot, they are likely to get negative feedback 25% of the time.
Trustpilot has, on occasion, been the subject of controversy and you can read an article by BBC Watchdog here.
Trustpilot was also featured on the Channel 4 investigative programme Joe Lycett's Got Your Back, where the possibility of fake reviews being left for an entirely false business was explored. You can watch the results of the investigation here.
Another BBC 5 news article about being able to buy fake reviews is here.
Reputations are built on happy customers
Learn what Trustist can do for your business