Feefo Holdings Limited is a British company and is a trading subsidiary of Mercatans Capital Limited, which was formed with an equity investment from Vespa Capital and debt from Silicon Valley Bank.  In their 2020 accounts they reported their turnover as £12,915,367 and they made profit before tax of £2,007,313 or 15.5% of turnover.  
Whilst each different review platform is more suited to specific industries, there are a few who stand out at being the most popular. One of these platforms is Feefo, who originally started as a product focussed review platform and help their clients collect reviews from their customers in a variety of ways.
This article explains the differences between the service offered by Feefo, and the service offered by Trustist. The below services are covered:
Guaranteed Stars in Google Organic Search Results
Automated Social Posts
Widget Customisation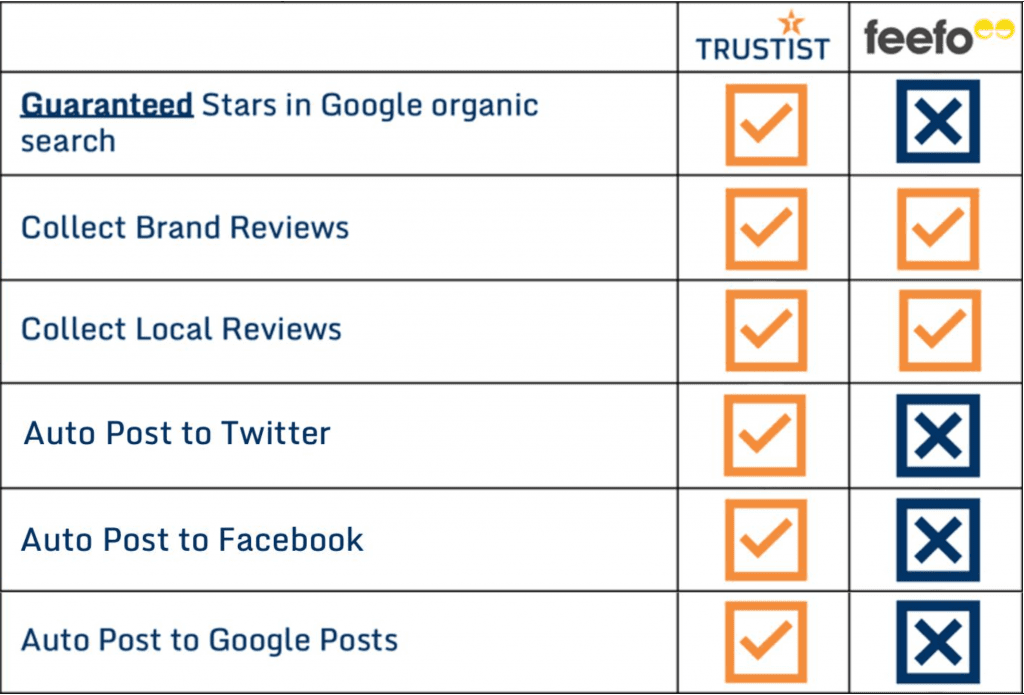 Guaranteed Stars in Google Organic Search Results
Feefo can help to provide you with stars against your listings, but this isn't actually guaranteed. This means the potential increases in traffic the stars could bring are not certain either, although it is possible to achieve them through Feefo. 


Whilst Feefo do provide guidance to their clients on schema markup and Structured Data, it requires a lot of work on the behalf of the client to ensure the right information is inputted and displayed. 


One of the main services Trustist provide is allowing you to get guaranteed stars in natural search results for your own website using the aggregation of all of the reviews you have collected across all platforms. Trustist clients also only need one review to get started with stars in their natural search results! 


This is achieved by simply adding one of the Trustist widgets to the website, which not only shows your review aggregation to users on the site but also to Google via Structured Data (this Structured Data automatically includes useful information about the business too).  This requires no manual work from clients as Trustist make sure that this Structured Data is up-to-date, relevant, and complete at all times, saving you valuable time during the implementation phase. 


The stars help clients to stand out from their competition whilst also making their listings more attractive, which helps to increase the amount of traffic through to the client's website from natural search results. 
Feefo clients are able to link their Facebook, Twitter and Pinterest accounts to their Feefo account. Through these integrations, they are then able to manually share their chosen reviews onto those pages for prospective clients to see.  


One of the features available within the Trustist client dashboard is Auto Post. When switched on, Auto Post takes any 4- and 5-star reviews collected and shares them automatically onto the chosen social media platforms (Facebook, Twitter and Google My Business). Sharing the reviews automatically allows clients to step away from any manual sharing, safe in the knowledge that their best reviews are being shared out to an even wider audience! 
Feefo customers are able to use their widget customisation tool to change various elements of the widgets displayed on their site. Whilst the options are limited in areas, they allow Feefo clients to adapt the widget to their preferred styling or branding which means it will fit better on their website. 


Trustist have a wide range of widget modifiers available to completely change the appearance of the various widgets available to clients – with new modifiers being added all the time! The wide range of widget choices means that clients can be certain the widget will suit their website and they can instead focus on collecting even more reviews to display in the aggregation! 


Aside from the main aggregation widget which is used to help clients get stars in their natural search results, Trustist also have additional widgets available to allow clients to display the reviews collected live on their site. These widgets are also customisable using the modifiers provided, and update in real time to include the latest reviews collected from every platform around the web! 
In 2018 the founders sold their shares and departed the company. Members of the management team with help from Vespa Capital completed the Management Buyout (MBO).

"Best return on investment of any marketing platform that we use, highly recommended, easy to get hold of the team."
"Since joining TRUSTist, I have seen at least a 10-20% pickup in business which I think is a phenomenal achievement."
"We have experienced substantial growth in part because of the quantity and quality of our Trustist reviews. Thank you Trustist!"
Reputations are built on happy customers
Learn what Trustist can do for your business